The Cook County Land Bank Authority (CCLBA) announced that a "Buy Back the Block" initiative spearheaded by five community developers has broken ground in West Woodlawn. The developers—Bonita Harrison, Sean Jones, DaJuan Robinson, Keith Lindsey, and Derrick Walker—acquired 11 vacant lots through the Cook County Land Bank Authority. On May 17 they kicked off an initiative to construct 11 three-flat buildings totaling 33 modern, 3-bedroom/2-bath residences that will be known as West Woodlawn Pointe.
The development located on the 6300 block of South Evans Avenue will be completed by an all-Black team that will transform the block, create more than 150 jobs, and reinvests wealth back into the community.
Harrison, Jones, Robinson, Lindsey, and Walker have worked independently as developers on Chicago's South Side for years, purchasing dozens of properties through the Land Bank in communities such as Chatham, Roseland, East Garfield Park, and Englewood.
Together, they have created more than $100 million in Black wealth and their work is generating $1.5 million in annual property tax revenue from properties that were previously generating no revenue for the county. The West Woodlawn Pointe development is a collaborative effort to pool together their resources, skills, and impact to create the greatest possible change in a single community.
"The concept of 'buying back the block' has become popularized in music and in the Black community as a way of reinvesting in our own neighborhoods to build equity and wealth for the entire community," said Bonita Harrison, developer of West Woodlawn Pointe. "The Cook County Land Bank gave us a way to combine our collective power to make that idea a reality on South Evans Avenue, and it will have a lasting impact on this community for generations to come."
"These 11 vacant lots would have stayed vacant for years if the Land Bank had not purchased them and made them available to community developers who believe in investing in the future of Woodlawn," said Sean Jones, developer of West Woodlawn Pointe. "We're excited to build homes that will welcome families to make West Woodlawn their forever home."
"Each of us has worked on dozens of individual projects, and West Woodlawn Pointe represents a collective pooling of our power to create change within this community," said DaJuan Robinson, developer of West Woodlawn Pointe. "We look forward to hiring from within the community and providing jobs to those who are often overlooked but have just as much passion for the future of their neighborhood."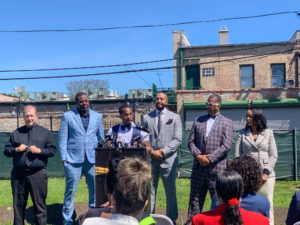 "This project is important not just because of its impact on this block but because it has the power to attract even more investment to West Woodlawn," said Keith Lindsey, developer of West Woodlawn Pointe. "We are confident that this development will demonstrate the viability of building up the Woodlawn community as a place for residents and small businesses to thrive and grow."
"Without the Land Bank, these lots would have remained vacant or been purchased by a large developer with the resources to sit on them until Woodlawn gentrifies," said Derrick Walker, developer of West Woodlawn Pointe. "Instead, we are setting a bar for what development will look like in Woodlawn: development by the community, and for the good of the community."
"This is a story of innovation and community ownership, and the Cook County Land Bank Authority is thrilled to have provided the land, mentorship and support to the West Woodlawn Pointe Developers that makes it possible," said Eleanor Gorski, Executive Director of CCLBA. "The addition of these homes—where vacant lots have sat for years—will bring new vibrancy to this evolving neighborhood, and we're delighted that they're being built by talented, dedicated developers who know this community best."
The CCLBA, launched in 2013, acquires properties that have sat tax delinquent, abandoned and vacant for years and sells them at fair market rates to qualified community based developers. At one time nearly 55,000 vacant lots and properties sat vacant. The CCBA recently celebrated the renovation of its 1,000th property, which are rehabbed for prospective homeowners or small business owners, reducing blight and generating community wealth across Cook County communities.
The Land Bank has generated more than $123 million in community wealth, disrupting decades of divestment, and enabling small developers to build businesses and create jobs, leading to greater stability in their own neighborhoods.
This event was held in collaboration with the City of Chicago and County representatives who spoke about the critical partnership with the Land Bank and how it has adapted and evolved. Today, the Land Bank not only supports the renovation of abandoned properties dispersed throughout the city by its developers, it now is working in collaboration with multiple entities and its developers to transform whole communities through new construction projects.
For more information about the Cook County Land Bank Authority, visit www.cookcountylandbank.org.