Photo caption: RONNIE MOSLEY IS a candidate for the 21st Ward
Who is Ronnie Mosley?
To elected officials, he's a rising individual running for alderman for the 21st Ward against a field of seven candidates. In political ads and mailers, Mosley has presented himself as a well-educated candidate who has snagged some impressive endorsements that include Governor J.B. Pritzker, the Chicago Tribune, Father Michael Pfleger, Alderman Michelle Harris (8th Ward) and outgoing 21st Ward Alderman Howard Brookins.
Mosley is proud of his endorsements, as well as campaign donations he has received from labor unions, prominent businessmen, and religious and social justice entities.
Mosely is also proud of being a Morehouse graduate, he wears the HBCU's clothing and has the school's logo on his resumé on his LinkedIn account.
But a Crusader investigation of Mosley's academic credentials revealed that the ambitious 31-year-old community organizer never graduated from Morehouse College. He fabricated his academic credentials and got a job as a political advisor with Gov. Pritzker's office despite having just a high school diploma.
To this day, Mosley touts his valid membership in the Morehouse Alumni Association even though he failed to get a degree. Mosley claims he was an Adams Scholar at Morehouse years ago, but conversations with individuals at the school have turned up nothing to substantiate this claim.
Amid text messages, emails and phone calls, Mosley is avoiding the Crusader as questions about his credibility mount before voters and the institutions that have endorsed him. Questions regarding Mosley's academic credentials come at a time when politicians like New York Congressman George Santos are under intense scrutiny after a New York Times investigation exposed Santos after he fabricated his resumé before voters elected him to public office.
In Chicago, Mosley is the latest political candidate to come under scrutiny.
The story begins at the Chicago Crusader, which began verifying the academic credentials of all aldermanic candidates in Black wards as part of the routine process of fact checking data. When the Crusader began checking Mosley's credentials, red flags went up as several sources told the Crusader he never graduated from Morehouse College, a prominent historically Black college in Atlanta.
Over the past three weeks, the Crusader emailed and spoke to individuals and to Morehouse's Registrar's Office, which holds the transcripts of its graduates. When the Crusader asked the registrar's office to verify completion of graduation credits, they directed the request to their outsourced firm, the National Student Clearinghouse. That firm handles degree verification inquiries for numerous colleges and universities across the country.
On Friday, February 10, the results came back from the National Student Clearinghouse. The firm emailed the Crusader an official verification certificate that shows Mosley attended Morehouse from 2009 to 2018. But in the space where it says degree title, the firm indicated enrollment only.
The National Student Clearinghouse confirmed that Mosley attended Morehouse but never received a bachelor's degree in Urban Studies, as he had claimed on his resumé and his questionnaire to the Chicago Tribune's Editorial Board, which endorsed Mosley on February 6.
Seeking a second confirmation, the Crusader again emailed the National Student Clearinghouse. Three days later, on Monday, February 13, Emily Clark from the National Student Clearinghouse's Verification Services Support Department sent the Crusader an email.
It reads, "The verification results you received came directly from the school and they based their research on the information you provided in your initial request.
"If you have proof of the subject's degree/attendance, such as a copy of the subject's diploma or transcript, email a scanned copy along with the transaction ID. We will present the documentation to the school for further research, and we will let you know what they determine."
Minutes later, the Crusader called Mosley and asked him whether he graduated from Morehouse. He said, "I did graduate, it was in 2018."
(On his LinkedIn account, Mosley said in 2009 he earned a bachelor's degree from Morehouse in Urban Studies).
But when the Crusader told Mosley that during a verification check, Morehouse said he never graduated, he said, "I took a math course that was never approved. It was a pre-calculus class."
The Crusader then asked Mosley to email the newspaper a copy of the Morehouse degree he said he earned. The Crusader also asked Mosley to email or produce the commencement booklet and photos of him on graduation day at Morehouse. When Mosley did not respond, the Crusader continued to make similar requests via text messages that went unfulfilled.
But when the Crusader texted Mosley and asked him did he fabricate his academic credentials in order to get a job in Gov. Pritzker's office and to receive an endorsement from the Tribune, Mosley responded, "I understand Sean Anderson has been in touch with you. He will continue to work with you."
For this story, the Crusader emailed Sean "Skip" Bland, Director of Alumni Engagement, Partnerships, and Events at Morehouse College's Department of External Relations and Alumni Engagement. Bland graduated from Morehouse in 2005.
During the investigation, the Crusader emailed Bland, asking him if he knew Mosley. On February 2, Bland emailed the Crusader to say, "As I stated to my colleague, I could not find the individual in our secure system, nor could I find him in the yearbooks around that time period. If it is possible that there was a typo on the year or the name, please let me know."
The Crusader researched Morehouse's 2009-2010 yearbook, The Torch.  Mosley's picture is among the school's freshman class. However, in subsequent Morehouse yearbooks, the Crusader couldn't find Mosley's picture anywhere.
In November, Mosley unveiled a new television campaign ad on Twitter. The ad shows Mosley going door to door, and it also shows him claiming he is an alumnus of Morehouse College. But the picture doesn't show him in the school's cap and gown. Instead, it's a photo of a young Mosley in a Morehouse shirt that looks similar to the picture in his freshman year in Morehouse's The Torch yearbook.
Despite not having verification of a Morehouse degree, Mosley, as of February 14, still had his claims of having graduated on his political mailers, on his campaign website and on his LinkedIn account.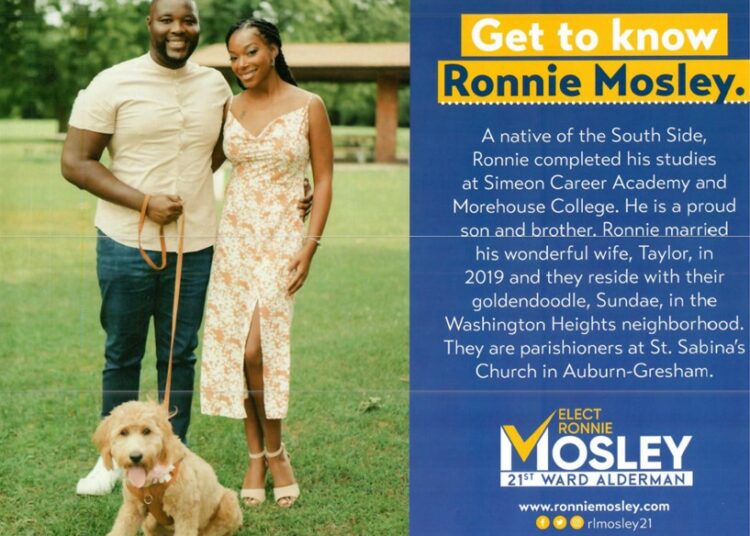 Mosley also claims that he was an Adams Scholar at Morehouse in 2010. Seeking verification, the Crusader called the school's Adams Scholar Office twice. On the second attempt, an official said he would have to search their archives but has yet to call back.
During the Crusader's brief telephone interview with Mosley on February 13, he emailed the Crusader a copy of a PayPal receipt in the amount of $100. He texted the Crusader and said it was payment of his membership dues to the Chicago area chapter of the Morehouse Alumni Association.
But how can you be an alumnus of Morehouse without a degree?
"Members don't necessarily need a degree to become part of the Morehouse Alumni Association," said Michael Levesque, Vice President of the Chicago Area Morehouse Alumni Chapter. "We simply require members to have competed a full semester of studies at Morehouse College."
When asked about Mosley's claims of earning a Morehouse degree, Levesque said, "I don't know why he listed a Morehouse degree on his resume.  I can't speak to that."
Mosley did graduate from Simeon Career Academy in Chatham on the South Side. Mosley's resumé claims he worked as a political advisor for Gov. Pritzker from December 2021 to December 2022.
Natalie Edelstein, Communications Director for Gov. Pritzker, confirmed those dates of Mosley's employment. Edelstein did not respond to the Crusader's inquiry of Mosley's job title, which he says was policy advisor.
Asked whether Mosley's academic credentials were verified before employment, Edelstein texted, "Vet[ted] results aren't shared publicly."
The Crusader then asked Edelstein whether Pritzker's office would have hired Mosley had they known he had only a high school diploma. She did not respond.
The Crusader was unable to verify Mosley's other work history on his resumé, which claims he was a founding partner for over five years at the Homewood Strategy Group. Mosley's resume also claims he was a cannabis regulation oversight deputy officer for one year after serving as community affairs specialist for Lt. Governor Juliana Stratton. In 2018, Mosley claims he was program coordinator for eight months for the Obama Foundation.
In its endorsement of Mosley, the Tribune's Editorial Board said, "The candidate who intrigues us the most is Ronnie Mosley. His resume is impressive for someone who's 31 years old — he has worked as a community affairs specialist for Lt. Gov. Juliana Stratton, has an extensive background in community outreach."
The Chicago Crusader emailed the Chicago Tribune's Editorial Board, asking whether the newspaper checked Mosley's academic credentials before endorsing him on February 6.
Chris Jones, Editorial Page Editor for the Tribune, said, "The school (Morehouse) does appear in the questionnaire, which we publish as a service to readers to let them read what the candidates are claiming. We're not planning on making any changes to our endorsement at this time."
Jones did not respond to a follow-up question, asking whether Mosley's academic credentials were checked during the endorsement process.
Mosley has raised more money than any aldermanic candidate in the 21st Ward. He has raised more than $88,000 for his campaign.
On December 27, he received a $30,000 campaign donation from the labor union SEIU IL Council PAC Fund. Five days earlier, Mosley received $20,000 from the labor union SEIU HealthCare IL IN PAC.
On December 8, Father Michael Pfleger gave a $500 campaign donation to Mosley who attends Pfleger's St. Sabina Church in Auburn Gresham. On December 30, Mosley received two-$500 campaign donations from businessman Larry Huggins, who founded the Chicago Football Classic, and activist Bamani Obadele.
UPDATE: After this story went to press, Mosley released this statement that was emailed to the Crusader by Sean Anderson, Vice President of APS & Associates, a political consulting and strategy firm that gave a $9,000 political donation to Mosley's campaign, according to filings with the State Board of Election.
Mosley's statement reads, "I faced enormous financial difficulties trying to get through college, but while I spent most of my college years at Morehouse and was welcomed as a Morehouse Man by the alumni association, a discrepancy in transferring credit from community college left me one class short of official degree completion. It's frustrating to deal with wrongful accusations and character attacks when I was just trying to earn an education, but I am grateful for my Morehouse experience and it shapes who I am to this day."
When the Crusader asked for documents or evidence that he was one class short of earning a Morehouse degree, Anderson emailed the Crusader to say he is out sick that day and directed us to contact Rachel Hoge, executive vice president of AP & Associates.  We emailed Hose with the same request, but she never responded.